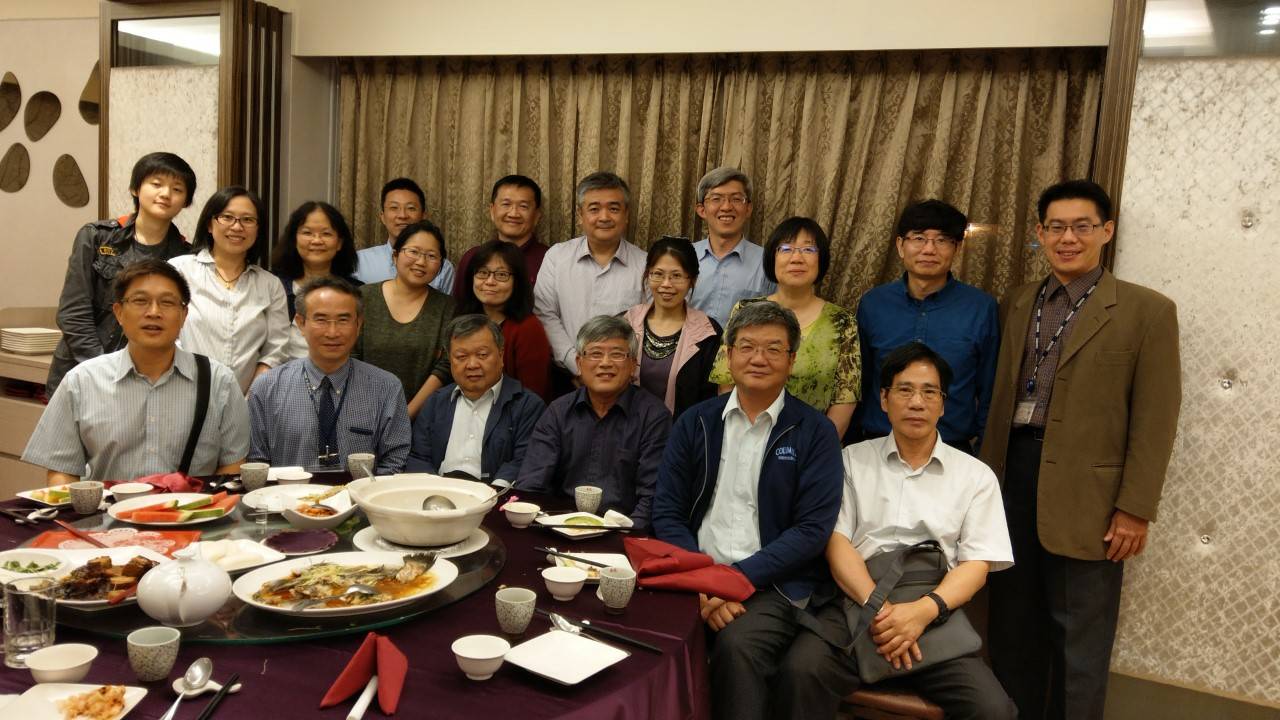 敬邀參加第34屆生物醫學聯合學術年會暨邀稿通知

海峽兩岸暨港澳青年解剖科學家夏令營

解剖學學會第十六屆第一次教學研討會學會會員邀請函

2018/4/20 5th International Anatomical Sciences And Cell Biology Conference (IASCBC)

各位解剖學學會會員大家好:
第五屆IASCBC將於2018年7月24日-7月26日,在馬來西亞吉隆坡舉行,歡迎學會會員踴躍報名參加。
Dear Participants,

We are honored to invite you to the upcoming 5th International Anatomical Sciences and Cell Biology Conference (IASCBC) scheduled from 24-26 July 2018 at the Berjaya University College, Kuala Lumpur, Malaysia.
 
This conference will provide a platform which brings together scientists, researchers, academicians, post-graduates and experts from the fields of anatomy, microscopy and cell biology, as well as a broad range of medical, biomedical and health sciences discipline to share the current developments in their respective areas. For the first time, Malaysia will be hosting this much anticipated conference which will be held in the prestigious Berjaya University College at Kuala Lumpur.
 
We take pleasure in inviting you to two enriching days of scientific networking which we truly believe will be beneficial and fulfilling. If you have any further enquiries, please do not hesitate to contact us at iascbc2018@gmail.com
 
We look forward to seeing you at the IASCBC 2018.
2018/3/27 第16屆理監事投票結果

各位解剖學學會會員您好:
本次投票結果如下,順序依照票數排列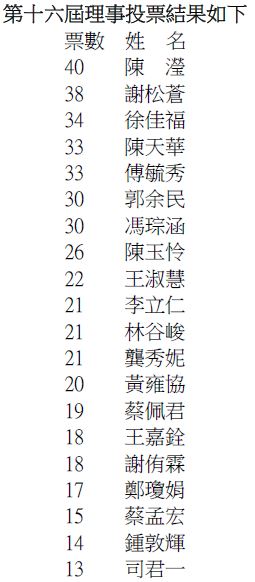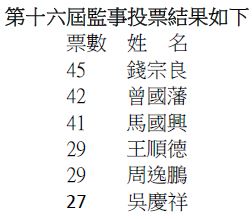 2018/3/12 學術論文競賽結果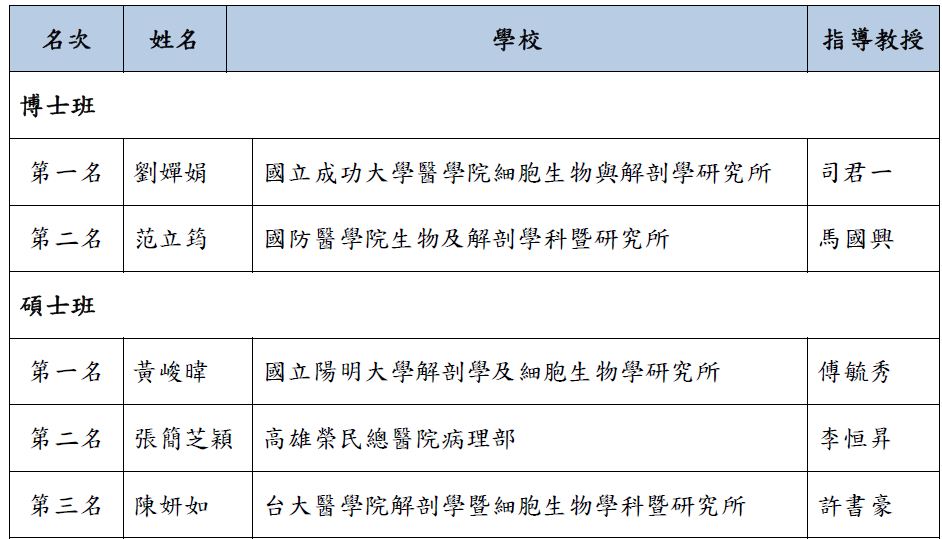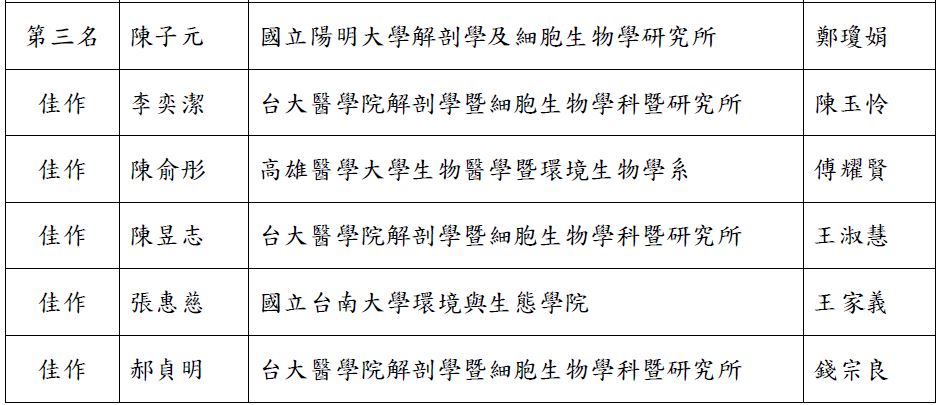 2017/12/30 中華民國解剖學學會30週年會慶暨海峽兩岸解剖學交流研討會」

本會僅訂於
107
年
1
月
20
日星期六,於台灣大學醫學院
103
講堂
 (
台北市中正區仁愛路一段一號基礎醫學大樓
) 
舉辦「中華民國解剖學學會
30
週年會慶暨海峽兩岸解剖學教學研究經驗交流研討會」,由海峽兩岸十二名資深教授蒞臨演講,當天議程如下,歡迎大家踴躍參加
!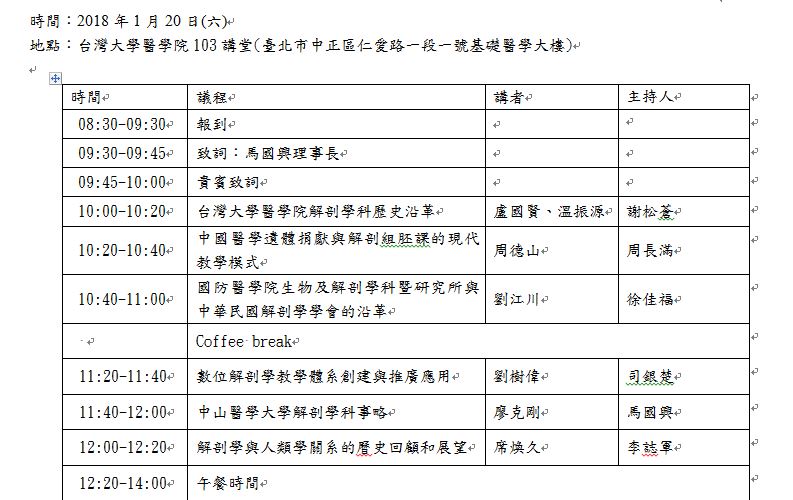 2017/5/17 International Federation of Associations of Anatomists (IFAA) 相關訊息

各位解剖學會會員大家好:
以下為IFAA請學會轉知給各位會員的訊息:
Dear Colleagues,
The Federative International Committee for Scientific Publications (FICSP) of the IFAA is dedicated to the advancement of the anatomical sciences through all forms of publication. In this regard, we are pleased to announce our endorsement and support for the following two publications. We believe that both of these papers will enhance and improve the guidelines on which anatomical studies are built.
Development of the Anatomical Quality Assurance (AQUA) checklist: Guidelines for reporting original anatomical studies.
Clin Anat. 2017 Jan;30(1):14-20.
Development of the anatomical quality assessment (AQUA) tool for the quality assessment of anatomical studies included in meta-analyses and systematic reviews.
Clin Anat. 2017 Jan;30(1):6-13.
Sincerely,
R. Shane Tubbs

2017/04/27 徵才相關訊息 HTC 未來醫療實習生招募計畫

各位解剖學會會員大家好:
HTC健康醫療事業部招募醫療實習生,詳細內容如下
HTC 未來醫療實習生招募計畫 2017
你想要參與未來醫療科技創新的發展嗎?
與世界級的團隊一起研發產品嗎? 在履歷上增加亮眼的實習經歷嗎?
請加入我們HTC未來醫療實習培育計畫
公司:HTC 宏達國際電子股份有限公司 健康醫療事業部

薪水:面議

職稱:Healthcare Innovation Intern

地點:全球研發總部 新北市新店
我們在找的人才: 
1. 大學三至四年級以上醫療相關科系(醫學、解剖、護理、營養、放射、藥學、醫管等醫學相關科系)含研究所
2. 喜歡挑戰,具有創業的精神 
3. 解決問題及良好的溝通能力
實習時間:1.暑假期間 (週一到週五)或 2. 學期間 (一週2-3日)
履歷格式: 
1. 一頁A4為限 
2. 英文佳 
3. 附三年成績單
請將履歷寄至: 
Lewis Chang
HTC Health Care 

2017/03/14 International Federation of Associations of Anatomists (IFAA) 相關訊息

各位解剖學會會員大家好:
本學會目前已成為IFAA的會員,以下為IFAA請學會轉知給各位會員的訊息:
It is my understanding that you are contact person for your Society.  Your Society is a Member Society of the International Federation of Associations of Anatomists (IFAA).  Please distribute this information from the IFAA to the members of your Society.
It is my pleasure to inform you that Prof. Beverley Kramer, President of the IFAA, was recently selected as a Fellow of the American Association of Anatomists (AAA).  The rank of Fellow of the AAA is designed to honor distinguished members who have demonstrated excellence in science and in their overall contributions to the anatomical sciences.  Please join me in congratulating Prof. Kramer for this distinction.

 

The following is a message from Prof. John Fraher, Chair of the Federative International Programme for Anatomical Terminology (FIPAT), a standing committee of the IFAA:
The Changing Face of FIPAT: Web publication of Terminologia Embryologica and Terminologia Neuroanatomica
FIPAT is pleased to announce that the latest version of 
Terminologia Embryologica
[TE2] was published on February 21. Publication of 
Terminologia Neuroanatomica
 followed on February 23. Both are available on the open part of the Dalhousie section of the FIPAT website [
FIPAT.library.dal.ca
]. Both represent the official terminologies of the anatomical profession.
In the lead-up to this, the then current versions of Terminologia Anatomica [TA], Terminologia Embryologica [TE] and Terminologia Neuroanatomica [TNA] were made available to the IFAA member societies by means of a specialised Internet DropBox in early 2016. Responses were incorporated and TA, TNA and TE were all further reviewed and developed extensively.
Website publication represents a major milestone in the progress and development of FIPAT. Replacement of the book format by electronic publication is a central element of FIPAT strategy. Inevitably, the book format, while elegant and authoritative, entailed very long delays in revision and updating. By contrast, electronic publication has the key advantages of providing wide availability and of enabling responsiveness to feedback on terminology in close to real time. It enables frequent revision and updating. FIPAT organisation is geared to react rapidly to feedback, comment, criticisms and proposals through its structure; a specific working group is responsible for each Terminologia.
TE2 and TNA will be closely followed by TA2. The published terminologies are licensed under a Creative Commons International Licence of the CC BY-ND form.
John Fraher
Chair, FIPAT
24 February 2017
Respectfully submitted,
Stephen Carmichael
Vice President, IFAA

2017/03/06 口頭論文競賽得獎名單

各位解剖學會會員大家好: